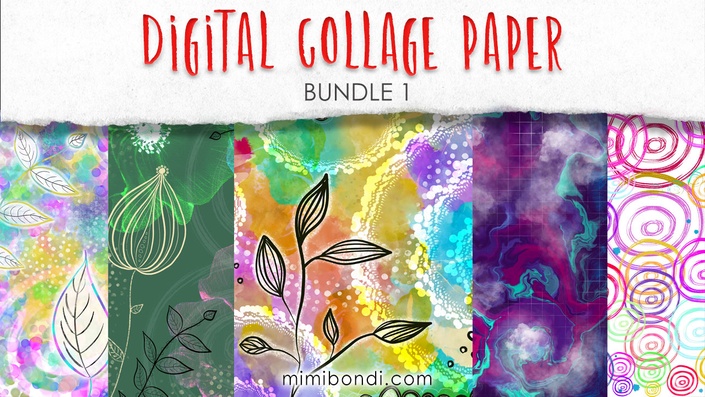 Digital Collage Paper Bundle 1
Download fantastic backgrounds to use in your own art!
Unique mixed media art for you to download!
Download this super cool Digital Collage Paper Bundle 1 and use it to create more art of your own!
This original artwork was created by me and once downloaded, you can use the file to your heart's content - well, for your own personal use, not commercially ;-)
You will receive 5 files in PDF format (PDFs can be opened on any type of device), A4 size (21 x 29.7 cm), high resolution, 300 dpi.
You have access to the files here for 12 months.


You can...
Print it a million times if you wish (on your home printer, or at a copy shop like Officeworks) once downloaded.
Use it as a background for art journal pages or mixed media canvas...
Tear pieces to create fun collages...
Cut it up by hand or with a punch to make elements you can later collage on art tags, greeting cards, scrapbook pages... Think circles, strips, etc!
If you are handy on a computer (or apps like Procreate), you could incorporate it into digital art, resize portions of it, change the colours...
There are so many possibilities!
Things you should know before buying!!!
The Artist retains the copyright on the artwork at all times!
You can save/print the file for your OWN USE ONLY in order to create new art with it (or frame it!) and for no other reason.
You do not have permission to print/email the file to someone else, or upload it online where others can download it (bad, bad karma!)
You cannot use the artwork 'as is' for print on demand products (like Red Bubble, or Society6) or for commercial purposes, but you can use art you created with it to sell those products.
If you are unsure and want to sell something you made with this file, it's always best to ask me first for confirmation ([email protected]).
As a general rule, if what you created doesn't look much like the original artwork anymore (for example you tore a piece of it and used it in a collage) then you are good to go 😉